Maphouder
PARTS REAR CAPT SIDE
The back wall (back wall) of the Capt I is composed of following parts:
Dome light with opbouwblokje back wall;
Circuit breaker panel, P18-1 (Nav);
Circuit breaker panel P18-2 (Inst & Comm);
Circuit breaker panel, P18-3 (Anti-Ice, & Lighting);
Head phone dummy panel;
Development with housing for cup holder and ashtray;
Cup holder and ashtray;
Ad Grimes light;
Flashlights with holder;
Dummy 'observer/jump seat' with pillows, pad holder and 'safety belt';
Maphouder;
Amp-stickers-CB";
Decals with panelnummering and inscriptions;
Circuit breaker button caps;
Nis with upper rail window P2;
Ad " upper rail window P2.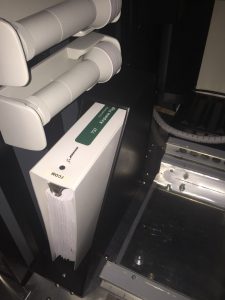 DESCRIPTION
In the Boeing of Ryanair one can find behind the Capt seat, under the flash lights', a folder or fardehouder. This serves to folders or documentation in store.
I use the maphouder to the FCOM store.
CONSTRUCTION
Like many things in my cockpit I also do mdf panels (6 mm) used to make this maphouder.
First, the various panels out and then against each other and gluing with wood glue. There must be taken into account that everything is square.
After the drying time it is the turn to the barns, i.e. rounding of the edges and corners. With mdf there is no problem.
Openings, seams and edges are bijgeplamuurd and then again sand until everything is nice and smooth.
Then, it is a primer applying and then a few coats of lacquer (black satin).
BEVESTIGING
The maphouder is on the bottom of the cockpit, bolted with a couple bolts. To do this, one must first take into account existing kliknagels that need to be removed.
Translated by Yandex.Translate and Global Translator