What went before...
Every hobby has its own evolution. This evolution, much depends on the technical capabilities available at that time and on the other hand, improvements or innovations along the side of manufacturers and producers.
The evolution or progression of the hobby depends primarily on the extent to which his interests to reach and what are goals are. Every hobbyist will for themselves have to decide at what level he vrijetijdsbeleving wants to expand and experience...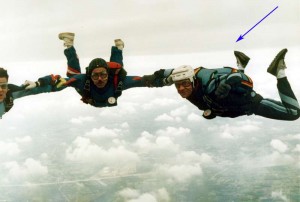 I remember in 1975 my first steps was doing in the world of parachuting. My first jump in Purchase was carried out on 1200 ft (400m) with automatic opening (static line), and with a military parachute (TAP).
This first jump was a great experience and gave me an incredible satisfaction...
After the landing I saw how the men's instructors with their own parachute from 8300 ft from the plane dived and a free fall did of 40 seconds.
For a beginner like I was this waaghalzerij and an unattainable something. Not my cup of tea...
And yet a few years later I was with my own parachute at 10,000 ft instruction to free fall to the...
So you see but how everything can evolve. Interests and goals here again the key words.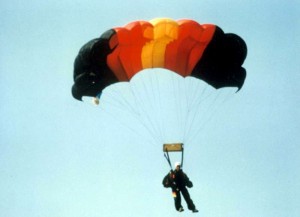 FLIGHT SIMULATOR
The same story repeats itself in my new hobby into the world of Flight Simulator. Interested in a (virtual) luchtsport, aviation and aircraft are here again the red wire.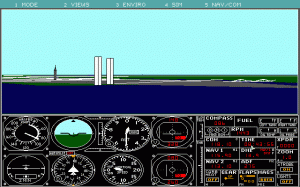 The very beginning, 15 years ago (1995), with a 386-based computer, a joystick and a couple of floppy disks with a primitive version of Microsoft Flight Simulator (FS4). It was a thrilling experience to have an airplane to put down on a landingstrip. The self made areas, and aircraft were very primitive made with only the primary colours and angular drawings. The sound came from the pc speaker...
15 years later, this world of Microsoft Flight Simulator (and others) has become something that can't be compared with the years of when. The self made areas are photo realistic and the add-on aircraft technical marvels. Internet and also, especially, programs, and organizations such as FSUIPC, WideFS, Teamspeak, IVAO, VATSIM, have a major turnaround brought about.
By the hands of a program such as FSUIPC, it is now possible to get out of your computer screen and all the hardware to send. Hardware manufacturers of cockpitmodules, panels, trottles, avionics have eagerly made use of.
The way is open for cockpitbuiding... 'As real As it gets' !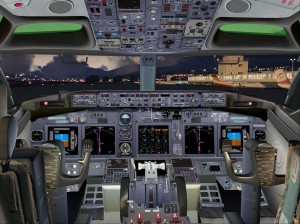 DESKTOP FLYING
If you are about a 15-year-'re working with flightsim then you have already been saving to hardware.
The basic joystick to make room for a steering wheel with the rudder pedals, the CRT monitor to make room for multiple TFT screens, separate trottle and the engine to complete a rack with the avionics :
Saitek Pro Flight Yoke (steering wheel)
Saitek Pro Flight Rudder pedals (voetenstuur)
Saitek Pro Flight 3 Liver trottle (x2) (throttles)
GoFlight GF-46 Multi Mode Display Module (DME distance, QNH, Standard pres., SSR-codes...)
GoFlight GF-RP48 Rotary and Pushbuttons (panel-, beacon-, logo-, nav-, strobe-, wing-, taxi-, landing lights)
GoFlight GF-MCP Advanced Autopilot Module (Mode Control Panel functions)
GoFlight GF-166 VersatileRadio Panel (Radio frequency Nav1-, Nav2-, Comms, ADF + standbys)
GoFlight GF-T8 Toggle Switch Control Module (Batt, avionics, scary start1, scary start2, spoilers arm, spoilers, the-ice, run cut)
GoFlight GF-P8 Pushbutton Control Module (ADF, XPNR, COM, Views, GPS, QNH, Standard pres.)
GoFlight GF-LGT I – levator trim, landing gear switchh 3 greens, Flaps Up/Down.
ButtKicker ( vibration while flying over the bass)
Headset 'Plantronics'
PC 1 with FS9, WideFS Server, IVAP, Teamspeak, TS Noise, PM Sounds, Active Sky, FSBuild
PC 2 with IVAE, Flight Sim Commander
PC3 with Jeppesen Charts, IVAE Folder, Aerosoft Calculator
IT COULD BE EVEN BETTER !

Despite this not sour desktopsetup began the desktopvliegen on the duration what ééntonig to be and the quest for even more realism went further. The urge for more ... and better !
During a visit to the then Luchtvaarthobbyshop (now the Aviation Megastorein Aalsmeerderbrug, a number of years ago, I was able to spend the first desktopcockpit of FlyEngravity admire. Beautiful to look at but unattainable for the average flightsimmer. The complex electronics and the price tag ...
Nevertheless, after this visit, the money for cockpitbuildig continue to smolder.

A few years later it was the turn to visit the FSWeekend to Lelystad, the netherlands. This annual flightsimbeurs the largest exchanges be counted in the world. Various flightsimclubs and manufacturers are available with a wide choice of all kinds of hard - and software.

During this visit, on 07 november 2009 I made the decision to start with the construction of a homecockpit.
Translated by Yandex.Translate and Global Translator