Expanding cup holder with dummy ashtray
PARTS REAR CAPT SIDE
The back wall (back wall) of the Capt I is composed of following parts:
Dome light with opbouwblokje back wall;
Circuit breaker panel, P18-1 (Nav);
Circuit breaker panel P18-2 (Inst & Comm);
Circuit breaker panel, P18-3 (Anti-Ice, & Lighting);
Head phone dummy panel;

Development with housing for cup holder and ashtray;

Cup holder and ashtray;
Ad Grimes light;
Flashlights with holder;
Dummy 'observer seat' with pillows, pad holder and 'safety belt';
Maphouder;
Amp-stickers-CB";
Decals with panelnummering and inscriptions;
Circuit breaker button caps;
Nis with upper rail window P2;
Ad " upper rail window P2'.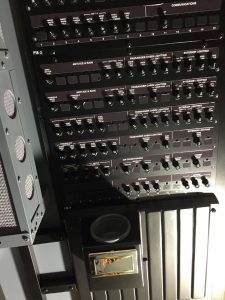 Uitbouwpaneel with mounting for cup holder/ashtray
At the bottom right of the Capt-back, there is an extension at the top of a cupholder for a mug in place and the front ashtray.
On the flat back wall I have a mdfpaneel screwed out of 22 mm thickness. At this panel, I then thin slats against each other glued. On the opbouwpaneel I have in the left-hand upper corner a space was left open for the confirmation of the expansion of the cup holder/ashtray.
This expansion or formwork is made of mdfpaneeltjes of 8 mm thickness. The panels are first against each other, glued, and afterwards, well rounded sanded and with the hole for the cup holder.
This extension is then glued against the mdfpaneel of 22 mm. Then in outline are the gaps, and openings close to filler.
The whole is then in the primer set, and afterwards with black satijnlak.
Drinkbekerhouder
For the cup holder, I have the grandchildren, a " boemba'-cup stolen that I am in the middle have been cut. That opening at the bottom, I closed with a round mdfplaatje in the bekeropening is glued on.
The lid with teutje I have nice round cut. This lid edge is back on the cup inserted, and serves as a 'collar' to the opening of the cup holder to hang (expansion cup holder/ashtray). You can the lid to be sure any glue on the jar.
By this collar of the lid, the cup holder not through the opening to fall.
The cup holder is painted in Boeinggrijs.
Ashtray
The dummy ashtray is just a metal box where one business cards in storage. This thin flat box looks on the outside like an ashtray. The case against extension is glued with double sided tape.
Translated by Yandex.Translate and Global Translator