Circuit breaker buttom caps
PARTS REAR CAPT SIDE
The back wall (back wall) of the Capt I is composed of following parts:
Dome light with opbouwblokje back wall;
Circuit breaker panel, P18-1 (Nav);
Circuit breaker panel P18-2 (Inst & Comm);
Circuit breaker panel, P18-3 (Anti-Ice, & Lighting);
Head phone dummy panel;
Development with housing for cup holder and ashtray;
Cup holder and ashtray;
Ad Grimes light;
Flashlights with holder;
Dummy 'observer seat' with pillows, pad holder and 'safety belts';
Maphouder;
Amp-stickers-CB";
Decals with panelnummering and inscriptions;

Circuit breaker button caps

;
Nis with upper rail window P2';
Ad " upper rail window P2'.
CIRCUIT BREAKER BUTTON CAPS
Images from the 'circuit breakers (CB's) you see often colored caps or kraagjes around the CB's. They usually have a red color, and sometimes yellow or green caps.
This caps around the CB's are in the 'environment' also 'chicken rings' ...
When there is an electrical or mechanical failure and need to quickly get to the correct CB to be sought, then it is often a whole quest to find the right one.
The most commonly used circuits are then marked with a cap in a certain color (eye-catcher). Very useful for the maintenance staff ...
It also gives an indication of whether a circuit breaker fused or not. A CB that must remain open and not pressed can (should) be has a red cap (deactivated).
A yellow color of a "chicken ring" denotes a CB that quickly need to be found during certain procedures.
The CB itself is, in a B737 have a black color.
e.g. In the case of Airbus, there are only green, 'chicken rings'. The green marked CB's at airbus want to say ECAM monitored. M. a.w. if there is a CB tripped (popped), it displays an amber 'caution msg' on one of the cockpitschermpjes (ECAM).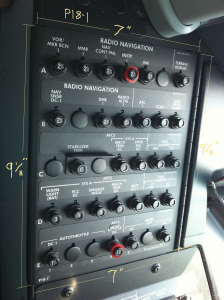 This 'Circuit breaker button caps', you can add it to the CB's in your homecockpit. At least for those who the CB panels have been installed ...
You can put them in the market to buy but are not cheap (€3 per piece for a plastic ring).
I have a number of caps itself patched together from the caps of bottles of water from Aldi.
The white portion I from the blue cap had been removed and the opening with a drill bit made bigger so that they understand about the button of the CB can be inserted.
Then the upper part on a 7 mm cut off with a stanley or cuttermes. Afterwards the 'cap' in the desired color painted.
Not 100% the same as the real version, but I can live with that ... 🙂
Translated by Yandex.Translate and Global Translator