Vloernagels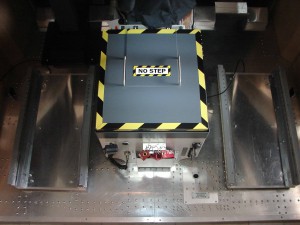 OMSCHRIJVING
In a real B737 cockpit, one can see that the metal plates on various places are attached with special nails with round head (rivets?).
To the idea and example of Jan Willem Severijnen, I have my cockpitvloer also equipped with the necessary 'body piercings'.
With photos of the real I tried the cockpitvloer in the right places with nails. In total, I have 342 nails ingeklopt.
STOFFEERNAGELS
The nails that we use for this are stoffeernagels. Nails with a round bulbous head that serve to furniture to upholster.
These nails I have purchased from Doehetzelfcentrum.nl. They are also available at the Range in the Netherlands. In the Range in Belgium, I am they haven't encountered.
The round bulbous head has a diameter of 9.5 mm and the length of the nail is 16 mm. In a box there 35 pieces.
I also stoffeernagels used that in a smaller size, namely, with a cup of 4.6 mm and 12 mm length and the number of in-a-box is 75 pieces.
All rivets are nickel-plated. One can do these nails also be ordered in bronze, hammered, and wire.
BEVESTIGING
My cockpitvloer consists of mdf panels with aluminium plates of 2 mm thickness.
A stoffeernagel by aluminium of 2 mm knocking does not work. Therefore, there must first be drilled.
I did this with a drill bit used of 1 to 1½ mm thickness.
First, everything on the floor outlined where the nails need to come out. We do this on the basis of fotovergelijking. The nails have an average distance between each other of 30 mm and this heart to heart.
At any place where a nail should come out, we first make a pin a boorpuntje. We can drill a hole until we are through the aluminium, not further.
Attention! Since we are a thin drill bit to use, we must be careful that the drill bit does not break. Especially when we are under a certain angle to drilling or the use of a heavy drill.
All nagelkoppen I first sanded with a fine sandpaper so that they are more cock. They are therefore more consistent with the rest of the aluvloer and all that 'blink-blink', I think by the way is less nice ... (in the real version, everything is painted in a dark gray color).
Then the nail with a small hammer in the hole hammer (in the mdf). To the wíth nail head with the hammer it inside to avoid damage, we put a thick cloth on it.
Translated by Yandex.Translate and Global Translator