Interface Overhead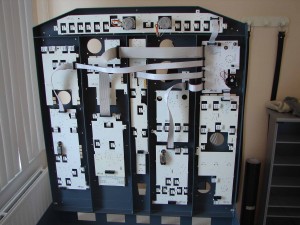 WELKE INTERFACE
Belangrijk is eerst te kijken welk interface-systeem je wilt gebruiken.
Zoals bevoorbeeld SIOC van Opencockpits meer is ingespeeld op zijn eigen producten. Deze interface is opgebouwd uit verschillende kaarten van Opencockpits (USB Expension card, master card, output card, input card, display card, encoder card, USB output card, DC motor card, servo card).
.
Is het aanstuurprogramma waarbij gebruik wordt gemaakt van een script. Een nadeel is hier vooral de nodige kennis die je moet hebben van dit programmeertaaltje om het script te maken of aan te passen naar eigen wensen. Verschillende scripts zijn kant en klaar beschikbaar.
Volgens van horen zeggen zijn de service, handleidingen en feedback van OC geen hoogvliegers.
Een ander veel gebruikt en betrouwbaar systeem is het gebruik van Bodnar- of Pokeyskaarten voor de inputs en de Phidgets64-LED voor de outputs.
Samen met Prosim is dit een vrij eenvoudige en economische manier om switchen en leds te interfacen.
Hebben we nog het interfacesysteem van Flight Deck Solution die gebruik maken van een eigen interfacesoftware en met een eigen reeks van verschillende SYS-interfacekaarten (SYS) en Tekworx als interface software.
De Spaanse firma Sismo Soluciones beschikt ook over een eigen interface en zij werken met Simcards en SC-Pascal Scripts.
.
Dit zijn zowat de voornaamste medespelers wat betreft het interfacen van een cockpit (OVH).
SIOC en Bodnar/Pokeys met Phidgets spelen hierin zowat de hoofdrol.
Prosim is compatibel met het ganse gamma dat hier is vermeld.
.
INTERFACE ICS OVH
Een laatste maar niet zo'n gekende manier van interfacen is het ICS (Integrated Cockpit System) van FlyEngravity en CPFlight waarmee mijn OVH is uitgerust.
Dit compleet systeem omvat verschillende pcb's waarop kant-en-klaar alle switches, displays en annunciators (leds) zitten. Eén van de pcb's is het moederbord dat 'daisy-chain' is verbonden met de rest en waarop alle functies al zijn voorgeprogrammeerd op het ICS-moederbord. Op dit moederbord zitten reeds alle functies geprogrammeerd van de OVH.
Het is dus enkel de ICS USB-stekker in de pc steken en in Prosim 'ICS OVH' aanvinken en de COM-poort aanduiden.
Dus niks installeren van schakelaars of leds, geen soldeerwerk , geen (spaghetti)bedrading trekken, geen dozijn interfacekaarten en dus ook geen interface uitvoeren van de switches, leds of displays.
Eenvoudiger en completer kan het niet.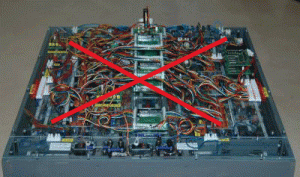 .
Een nadeel is hier wel dat ICS een vast en gesloten systeem is waarbij je zelf geen eigen veranderingen kunt aanbrengen of een interface doen.