Seats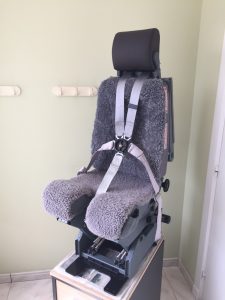 OMSCHRIJVING
De cockpit is uitgerust met 2 originele B737-seats van het merk IPECO. Deze zetels komen uit een B737-300 en via wat omzwervingen bij mij geraakt.
De zetels heb ik eerst gestript en dit in de mate van het mogelijke. Vervolgens heb ik alle onderdelen zuiver gemaakt en gepoetst.
Beweegbare onderdelen zijn opnieuw voorzien van olie of smeervet.
De J-rails die bij de zetels werden afgeleverd zijn niet origineel. Het concept van deze J-rails komt van de firma Revolution Sim Products zaliger (bestaat niet meer).
Deze J-rails heb ik gemonteerd op een verhoog of platform van 7cm vermits de MIP met onderstel bij het begin van de bouw van de cockpit hoger is gemaakt dan origineel voorzien was. Dit vooral om de hoogte van de C130-seats, die er vroeger in de cockpit stonden, wat op te vangen …
Deze B737-seats waren niet voorzien van hoofdsteuntjes (headrests). Die heb ik nadien kunnen kopen bij Opencockpits. Deze hoofdsteuntjes pasten niet helemaal in de originele openingen van de B737-zetels maar mits wat knutselwerk en kleine aanpassingen is dat toch prima gelukt.
De badges aan de achterzijde van de hoofdsteuntjes heb ik zelf laten borduren en geplaatst.
STRIPPEN EN ONDERHOUD
HEADRESTS
J-RAILS EN PLATFORM
BUTTKICKER
COCKPITMONTAGE