Teamviewer
TeamViewer provides an All-In-One solution for a large number of scenarios in one single software package: remote maintenance, spontaneous support, access to unattended computers, home office, online meetings, presentations, training sessions and teamwork.
I use Teamviewer to via a central computer remote to the different programs on various pc's to boot necessary to my cockpit to make them operational (FS, Prosim737 and modules, Sioc, AFAS, ProSimUtils, Ivap, PFPX, Topcat, Active Sky, Jeppview, FSC).
Also useful afterwards to a 'remote shutdown' of all the programs and pc's.
In the cockpit of a sit often different 'icons' on the screen and hidden it behind a certain cockpitonderdeel (e.g. MIP). Than is Teamviewer a handy aid to them ...
Teamviewer is definitely a must for those with multiple computers and screens should work !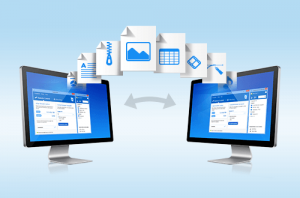 Translated by Yandex.Translate and Global Translator