Maphouder
In the Boeing of Ryanair one can find behind the Capt seat, under the 'flash lights', a folder or fardehouder. This serves to folders or documentation in store.
I use the maphouder to the FCOM store.
This maphouder is fairly easy to make with mdf panels, wood glue and a little sanding. Afterwards, the necessary schilderbeurten and ready is Kees.
Info and images are to be found at the following link: https://www.flightdeck737.be/hardware/platform/aft-flight-deck/onderfdelen-achterwand-capt-zijde/maphouder/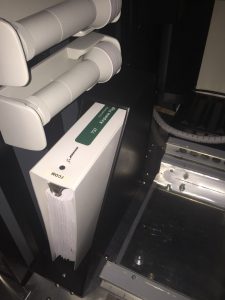 Translated by Yandex.Translate and Global Translator