Jump seat – Rear Capt
In the B737-800, behind the Capt seat is the jump seat . A place to sit for a casual cockpit-visitor or a trusted fellow traveler (flight attendant, inspector, etc.).
Because of lack of space I can't jump seat locations. To the void and the realism behind the Capt seat to fill, I have a (dummy) a folding version of made.
Info and images are to be found at the following link: https://www.flightdeck737.be/hardware/platform/aft-flight-deck/onderfdelen-achterwand-capt-zijde/kussenhouder-jumpseat-achterwand-capt/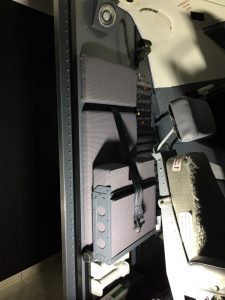 Translated by Yandex.Translate and Global Translator