Backlight Controller
BACKLIGHT CONTROLLER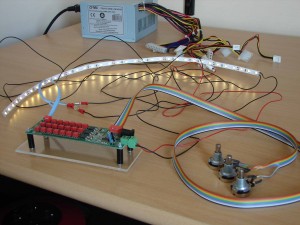 Bij het aanschaffen van de Lower subpanels heb ik mij bij FlyEngravity ook een backlight controller gekocht en dit om de verlichting in de cockpit aan te sluiten en te regelen (dimmen). Normaal wordt deze controller in hoofdzaak gebruikt voor het aansluiten en dimmen van de backlighting van de verschillende MIP subpanels.
De ICS MIP heeft een aparte voeding en kan dus niet aangesloten worden aan deze backlight controller. In deze cockpit zijn de subpanels van de ICS MIP rechtsreeks aangesloten op een meervoudige schakelaar van de Lower Panels (MAIN PANEL).
De backlighting van de Lower subpanels zijn ook rechtstreeks aan gesloten op dezelfde meervoudige schakelaar van de Lower Panels (MAIN PANEL)
De backlight controller regelt momenteel de verlichting van :
AFDS Flood (juist vóór en boven de MCP)
Background (indirecte verlichting in de glarewings en onder de glareshield – MCP)
Achtergrondverlichting standby instrumenten –Flaps –Yaw Damper – Brake Pressure
.
OMSCHRIJVING
De backlight controller is opgebouwd uit 3 kanalen en elke kanaal kan apart gedimd worden.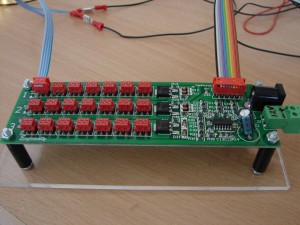 Het eerste kanaal heb ik gebruikt voor het afregelen van de AFDS FLOOD (MCP);
Het tweede kanaal is voor het afregelen van de BACKGROUND-verlichting (MIP glarewings en onderzijde glareshield);
Het derde kanaal dient voor het dimmen van de achtergrondverlichting instrumenten.
Elk kanaal is weer opgebouwd uit 7 rode connectors. Per connector kan men iets aansluiten voor te dimmen.
Wanneer men dus één kanaal afregeld zal dit van toepassing zijn op alle connectors van dat kanaal.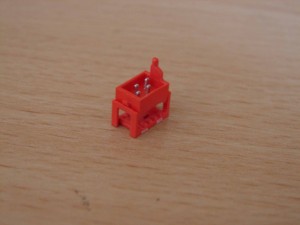 Bij deze backlight controller zit er ook  een 4-dradige flat cable en een aantal connectors.
Eén uiteinde van deze platte kabel wordt met een nijptang in de connector gedrukt. Vervolgens  wordt de connector bevestigd op de backlight controller.
Aan de andere kant van de 4-dradige kabel wordt de isolatie verwijderd. In het midden wordt deze kabel gesplist zodat men 2-paar kabels heeft die elk 12v geven.
Eén paar heb ik gebruikt om aan te sluiten (bv. aan een Ledstrip). De andere 12v –kabel heb ik ongemoeid gelaten en wat korter afgeknipt.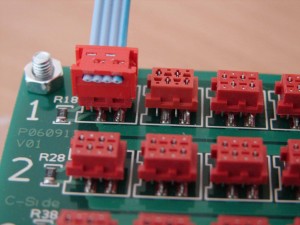 De 2 buitenste kabels zijn de positieve (+) en de 2 binnenste kabels zijn de negatieve (-).
Dus de 4-dradige flat cable ziet er als volgt uit :   + – – +
Het is aan te raden met de 4-dradige platte kabel maar één connectie te maken per rode connector d.w.z. één panel of één ledstrip.
Het andere paar van de 4-dradige platte kabel wordt dus niet gebruikt en wat geisoleerd tegen eventuele kortsluitingen.
Verder vinden we in deze kit nog een 10-dradige flat cable met aan het ene uiteinde een connector die men op de backlight controller kan prikken. Aan de andere zijde van de kabel bevinden zicht drie dimschakelaars (draaischakelaars) die men in de Lower panels kan inbouwen.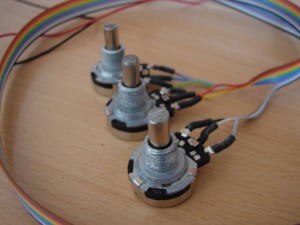 De backlight controller kan men aansluiten aan een 12V-adapter of aan een voeding van een pc.
Geel = 12v (+)
Zwart= Gnd (-)