Circuit breaker buttom caps
ONDERDELEN ACHTERWAND CAPT-ZIJDE
De achterwand (back wall) van de Capt heb ik samengesteld uit volgende onderdelen:
Dome light met opbouwblokje achterwand;
Circuit breaker panel P18-1 (Nav);
Circuit breaker panel P18-2 (Inst & Comm);
Circuit breaker panel P18-3 (Anti-Ice & Lighting);
Head phone dummy panel;
Uitbouw met behuizing voor bekerhouder en asbak;
Bekerhouder en asbak;
Spotje Grimes light;
Zaklampen met houder;
Dummy 'observer seat' met kussens, kussenhouder en 'safety belts';
Maphouder;
Ampère-stickers CB's;
Decals met panelnummering en opschriften;

Circuit breaker button caps

;
Nis met 'upper rail window P2';
Spotje 'upper rail window P2'.
CIRCUIT BREAKER BUTTON CAPS
Op afbeeldingen van de 'circuit breakers (CB's)' zie je dikwijls gekleurde kapjes of kraagjes die rond de CB's zitten. Ze hebben meestal een rode kleur, soms zijn er gele of groene kapjes.
Deze kapjes rond de CB's worden in het 'milieu' ook 'chicken rings' genoemd …
Wanneer er zich een elektrische panne voordoet en er moet snel naar de juiste CB gezocht worden, dan is het dikwijls een hele zoektocht om de juiste te vinden.
De meest gebruikte circuits worden dan gemerkt met een kapje in een bepaalde kleur (eyecatcher). Heel handig voor het maintenance personeel …
Het geeft ook een indicatie of een circuit breaker gezekerd is of niet. Een CB die open moet blijven en niet ingedrukt kan (mag) worden heeft een rood kapje (deactivated).
Een gele kleur van een 'chicken ring' duidt een CB aan die snel moet teruggevonden worden tijdens bepaalde procedures.
De CB's zelf in een B737 hebben een zwarte kleur.
bv. Bij Airbus zijn er enkel groene 'chicken rings'. De groen gemarkeerde CB's bij airbus wilt zeggen ECAM monitored. M.a.w. als er zo een CB uitspringt (popped), dan verschijnt er een amber 'caution msg' op één van de cockpitschermpjes (ECAM).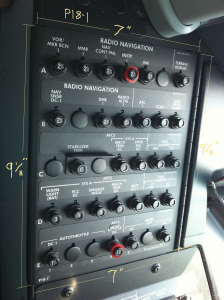 Deze 'Circuit breaker button caps' kan je toevoegen aan de CB's in je homecockpit. Tenminste voor degenen die de CB-panelen hebben geïnstalleerd …
Je kan ze in de handel kopen maar zijn niet goedkoop (€3 per stuk voor een plastiek ringetje).
Ik heb een aantal kapjes zelf in elkaar geknutseld uit dopjes van flesjes water uit de Aldi.
Het witte gedeelte heb ik uit de blauwe dop gehaald en de opening met een boor groter gemaakt zodat deze juist over de knop van de CB kan geschoven worden.
Vervolgens is het bovenste gedeelte op een 7 mm afgesneden met een stanley- of cuttermes. Nadien wordt het 'kapje' in de gewenste kleur geschilderd.
Niet 100% hetzelfde zoals de echte versie maar ik kan er mee leven … 🙂