Maphouder
ONDERDELEN ACHTERWAND CAPT-ZIJDE
De achterwand (back wall) van de Capt heb ik samengesteld uit volgende onderdelen:
Dome light met opbouwblokje achterwand;
Circuit breaker panel P18-1 (Nav);
Circuit breaker panel P18-2 (Inst & Comm);
Circuit breaker panel P18-3 (Anti-Ice & Lighting);
Head phone dummy panel;
Uitbouw met behuizing voor bekerhouder en asbak;
Bekerhouder en asbak;
Spotje Grimes light;
Zaklampen met houder;
Dummy 'observer/jump seat' met kussens, kussenhouder en 'safety belt';
Maphouder;
Ampère-stickers CB's;
Decals met panelnummering en opschriften;
Circuit breaker button caps;
Nis met 'upper rail window P2;
Spotje 'upper rail window P2.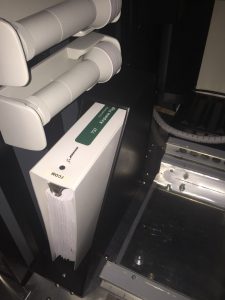 OMSCHRIJVING
In de Boeings van Ryanair vindt men achter de Capt seat, onder de flash lights', een map of fardehouder. Deze dient om mappen of documentatie in op te bergen.
Ik gebruik de maphouder om er de FCOM in op te bergen.
CONSTRUCTIE
Zoals vele dingen in mijn cockpit heb ik ook hiervoor mdf-panelen (6 mm) gebruikt om deze maphouder te maken.
Eerst de verschillende panelen uitzagen en dan tegen elkaar lijmen met houtlijm. Er moet rekening gehouden worden dat alles mooi haaks staat.
Na de droogtijd is het de beurt om alles op te schuren d.w.z. afronden van de randen en hoeken. Met mdf is dat geen probleem.
Openingen, naden en randen worden bijgeplamuurd en nadien weer eens opgeschuurd totdat alles mooi glad is.
Vervolgens is het een primer aanbrengen en nadien een paar laklagen (zwart-satijn).
BEVESTIGING
De maphouder wordt op de bodem van de cockpit vastgeschroefd met een paar boutjes. Hiervoor moet men eerst rekening houden met aanwezige kliknagels die verwijderd moeten worden.