The Seats are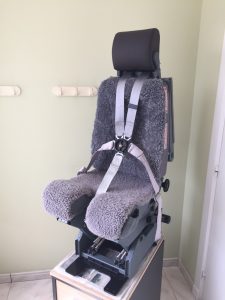 DESCRIPTION:
The cockpit is equipped with 2 of the original B737-seats on the brand of IPECO. These seats are from a B737-300, and through some moving around on me somehow.
The seats that I stripped down and, to the extent possible. And then I have all of the parts are purely made and polished.
Moving parts are once again provided with oil or grease.
The J-rails for the seats have been delivered (are not original. The concept of the " J " rail is the company, Revolution Sim Products, issued an appeal (no longer exists).
The J-rails, I have mounted up there, or a platform of 7 cm, as with the MIP, with a base at the beginning of the construction of the cockpit is higher than the original was. Because of the height of the C-130 seats, which used to be in the cockpit were to catch it ...
This Boeing 737 seats were fitted with headrests (headrests). I hope I will later be able to buy it from Opencockpits. These headrests would fit the original holes on the Boeing 737 seats, but with a little handiwork and minor modifications, is very successful.
The badges on the back of the headrests, I have to embroider it in and installed.
STRIPPING DOWN AND SERVICING
HEADRESTS
J-THE RAILS AND PLATFORM
BUTTKICKER
COCKPITMONTAGE
Translated by Yandex.Translate and Global Translator