Windows
DESCRIPTION
The use of windows (windows) in a homecockpit gives a bit more realism. In the manufacture of the 'shell' or casing of the cockpit, the windows are an important part. They form, together with the metal cockpitframe (buizenconstructie to which the overheads to be confirmed) a large portion of the 'shell'.
I thought the windows themselves to make out of wood but that turned out not to be simple. Especially the various angles, both vertically and horizontally, are delicate. Also the use of wood would, I think, what to log and not so beautiful happened.
FlyEngravity has B737-windows in their product line and that are very realistic and are nicely finished.
This B737-windows are made of aluminum of 2.5 mm thickness and powder coated in metallic. The whole is mounted with bolts and nuts and after the end of the job, everything is beautiful under a right angle.
The windows will be properly packed and delivered . The package consists of 2 front windows (windshield) and 2 sides (with the 2 side windows in a whole). It struck me also that the weight is negligible, and everything almost nothing weighs.
.
SETUP AND ASSEMBLY
Before I get to the metal frame of the OVH's started, I wanted to first know how the windows uitgepast should be around the cockpit. How far are they behind the glareshield and under which vertical and horizontal angles are the front windows and side windows are placed? And which space do they take space in the cockpitroom?
Since the left and the right mattress (windshield and side windows) with a central eyelet on the middenstut of the front windows and that middenstut also forms the beginning of the entire OVH-buizenconstructie (frame) is this information still important to first to know.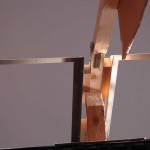 I have before reported on what height the front windows against the middenstut.
The top of the front windows (windshield) come flush with the bottom of the FWD overhead. Afterwards, it is quite simple the windows continue to mount.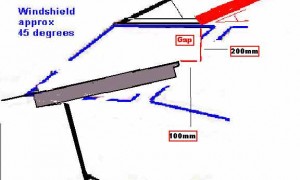 When the front windows (windshield) are attached to the middenstut of the support frame is simply the rest of the FlyEngravity-meccano assemble with bolts and nuts of 6 mm thickness.
For the fastening of the front windows (windshield) to the middenstut I sleeve is used, which one normally use in the mounting of body panels of a car. These sleeve are 6 mm thick and I have purchased from Fabory in Lommel, belgium.
This sleeve you can also buy them at any shop of body parts.
.
The rear windows (side windows) is attached to the brackets on the rear steunbenen of the OVH support frame are welded. This confirmation is also done with bolts, nuts and washers (rings) of 6 mm.
These brackets are also on beforehand, measured and paced so that the top sides of all the windows together level .
DIMENSIONS WINDOW FRAMES
Translated by Yandex.Translate and Global Translator