FWD Sidewall Liner
The forward sidewall' (Capt and FO) is found under the 'Dv Window armrest/Chart holder is comprised of a table and vertical panels.
In the table the holes for the installation of the 'folder panel light', 'oxygen panel', 'console document pocket' and 'drink cup holder'.
In the vertical panels, there are openings for the steering tiller', 'ashtray' and 'audio port'.
Explanation + pictures of the construction of the 'sidewalls' is to be found at the following link :
http://www.flightdeck737.be/hardware/platform/zijpanelen/constructie/nggallery/page/1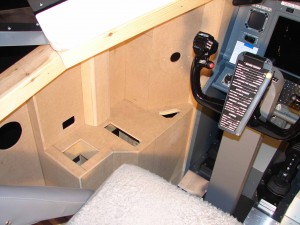 Translated by Yandex.Translate and Global Translator