Dome light – Rear Capt side
Against the back wall (rear bulkhead of the cockpit, one can find left and right 2 lamps (Dome Lights) for the interior lighting of the cockpit .
They are used at the entry to the cockpit when it's dark or the lights while giving a briefing ...
This 'Dome Light' on the right side is located above the 'jump seat' (or 'observer seat').
The 'Dome Lights' are difficult or impossible to find in the well-known hardware vendors. Also on Ebay they are a 'hard to get'-part.
Therefore, I have here and there playing around a while to own one to tinker. An extra working area when this artifact was the building of the opbouwblokje against which the 'Dome Light' is confirmed.
The bouwscenario with images can be found on following link:
https://www.flightdeck737.be/hardware/platform/aft-flight-deck/onderfdelen-tailgate-capt-side/parts-tailgate-capt-side-2/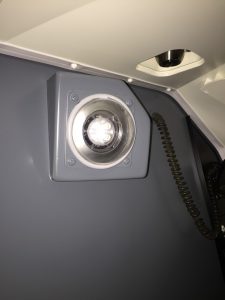 Translated by Yandex.Translate and Global Translator