Front Ceiling – Part 1
I'm already a while busy with the construction of the ceiling (ceiling) in the cockpit. This I divided in 3 parts :
Front (front ceiling);
Eyebrow windows;
Rear (rear ceiling).
Currently, the front is practically finished. This is the part between the 'windshield' (front windows) and the 'forward overhead. There remains for me only the necessary works to carry out.
This front is composed of 2 mdf panels of 12 mm (Capt and F/O). These mdf panels rest on the window frames and are screwed down against the metal cockpitframe in which the 'overheads' are confirmed.
After studying different pictures on Airliners.net I have this mdf panels in the middle (the left and right of the compass) with the necessary details (+-) that are found on the 'real thing'.
The 'front-ceiling' is also provided with the necessary folding handles.
After the necessary schilderbeurten and assembly follows a more detailed explanation + of course with the accompanying pictures ...
.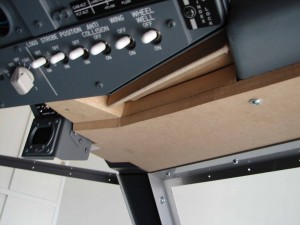 .
.
.
.
.
.
.
.
Translated by Yandex.Translate and Global Translator