Rear ceiling – the CPT side
In the meantime I have started with the construction of the other 'rear ceiling'. This time the CPT side.
Here again the same scenario, if the F/O side, after some trials and errors in the carton is the final part made from aluminium of 1 mm thick.
Also back here is a difficult part in the construction of the cockpit, and this by the collection of bows, folds and corners that are to be and all in one piece.
There is an additional difficulty and that is that everything must be the same as the F/O side, except on a few attachments.
After the raw aluminum part, the attachments such as the loudspeaker, emergency escape rope panel, overhead air conditioning register and a recessed overhead air conditioning vent.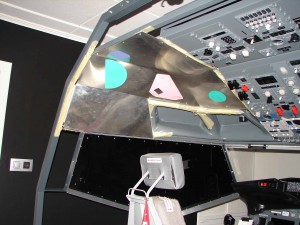 Translated by Yandex.Translate and Global Translator