5.0" TFT LCD Module + Dual AV/VGA Board
Last week, a 5-inch TFT LCD screen cameras. This TFT screen I bought through eBay and must serve for the Boeing Clock/Chrono.
The screen has a dimension of 118 mm x 78 mm. The display 110 x 66 mm.
It is the intent behind the MIP to confirm where the softversie of the 'ProSim Clock/Chrono' in the display is placed (idea Iain Williams).
In the current dummy 'Chrono-bezel' then 'have tacticle switches' built-in and controlled via the Pokeys Interface card. The backlighting of the 'bezel' will be done with led strips.
Target price of this complete Boeing-Chrono : 50 Euro ?
.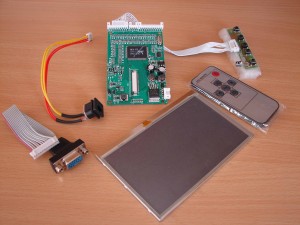 .
.
.
.
.
.
.
.
Translated by Yandex.Translate and Global Translator