Rear Ceiling – Construction
A difficult part in the construction of the cockpit is the path of the films of the 'Rear Ceiling' or the rear part of the cockpitdak.
It is a collection of bows, pleats and angles that are correct and that everything is in one piece.
After some trials and errors in the carton is the final part made from aluminium of 1 mm thick.
The explanation of the 'Rear Ceiling' is to be found on the following page : http://www.flightdeck737.be/hardware/platform/ceiling/rear-ceiling/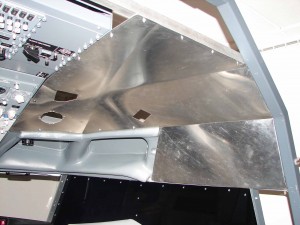 Translated by Yandex.Translate and Global Translator