Gear pin stowage
In between I have the pedestal (After Electronic panel) is further extended with the 'Gear Pin Stowage'.
Before the departure, on the 'walk-around checks', one of the crew members of the '3 gear pins (downlock pin) in the cockpit.
They are typically stored in one of the rear side pockets of the sidewalls.
In the Ryanair Boeings they have to do this, a separate provision (Gear Pin Stowage at the back of the pedestal. This gives you a nice overview that the 3 gear pins are present.
More info and photos : http://www.flightdeck737.be/hardware/avionics-pedestal/gear-pins-stowage/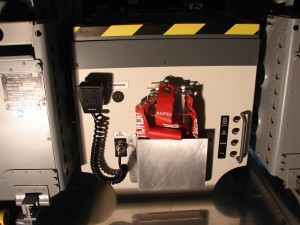 Translated by Yandex.Translate and Global Translator