USB Display Adapter
Hardware that should be interesting to have in the cockpit is the use of a USB Display Adapter.
The USB Display Adapter (J5create) has the function of an 'external graphics card'. It is not uncommon for one to low VGA/DVI or HDMI connections on a computer, and then comes this adapter.
This adapter is on the one side is connected with a monitor and the other side connected to a free USB port on the pc. With this adapter, there is also a manual and a CD with the necessary driver.
After the install of the driver can be the display via USB to use in 4 modes : Extended, Mirror, Primary, and Display Rotation.
You can in Windows by the way 4 of these adapters to connect.
This USB VGA Display Adapter(s) I'm connecting to the 5" TFT LCD screens that I'm going to use for the digital Boeing 737 standby instruments.
I have this USB Display Adapter(s) purchased from Conrad.be and they are available in 3 sizes : VGA, DVI, and HDMI.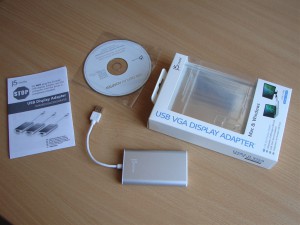 Translated by Yandex.Translate and Global Translator