Rear Ceiling – Construction
The attachments are the different parts that one can find against the 'Rear ceiling'. Which are composed of panels and shutters.
For the F/O side, we can distinguish :
Speaker;

Panel, Circuit breakers, lighting;

Section 'Emergency escape rope';

'Air vent' grill;

Liège 'Spare Bulbs'.
The dimensions are according to 'estimate' happened and this, after studying various photos and drawings.
They are made out of PVC Foam board and MDF.
Most of the attachments are 'dummies' and serve only for the view.
More info : http://www.flightdeck737.be/hardware/platform/ceiling/rear-ceiling/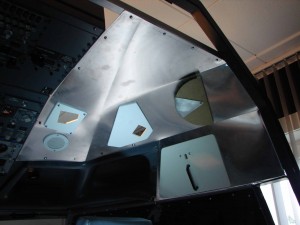 Translated by Yandex.Translate and Global Translator