New CDU from FlyEngravity
FlyEngravity has a new CDU is ready for the cockpitmarkt.
The CDU is completely of aluminum. The bracket can move and be used at the CDU from a DZUS rail to lift.
It has a TFT color screen. The CDU can be controlled through a USB or an ethernet connection. The display is from the processorboard-driven. There is a VGA on for those people who have the screen as a separate display want to use.
The side buttons are to the screen lines. This is all during the testing phase done before the cdu is sent, but should it be necessary, for example after a reset, the customer of this by means of these buttons do. Also can brightness and contrast be adjusted.
The CDU has a aluminum casing to protect the electronics.
Firmware update by means of drag and drop.
The keyboard is a silicone keypad over pressure switches. (For the click) Everything is backlighted and adjustable.
Price : € 1.349,- excl.
During the FSWeekend on 01-02 Nov in Lelystad, this new CDU to display on the FlyEngravity position.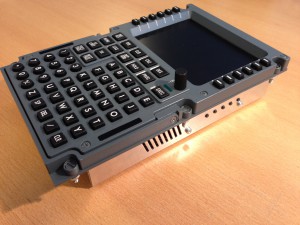 Translated by Yandex.Translate and Global Translator