Input Director
Despite the fact that a cockpit can be controlled with buttons and switches is still controlled by computers and software. And with computers now once mice and keyboards. A simcockpit without mice and keyboards is utopian and not realistic.
The trick is that mice and keyboards reduce to a minimum.
With the software tool 'Input Director', it is possible to restrict the use of one mouse and one keyboard.
This free program works on the master/slave principle, is easy to configure and has no delay. It is to be download on following link : http://www.inputdirector.com/
I use this program with 3 pc's and 7 monitors and it works flawlessly for the full setup.
Highly recommended.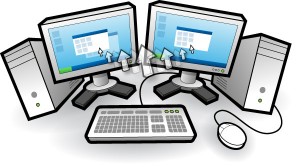 Translated by Yandex.Translate and Global Translator