Flight Illusion – B737 Flap gauge (GSA 14)
Last week I post a second-hand Flap gauge' received from a Russian cockpitbouwer.
This 'Flap gauge' of Flight Illusion is provided with a 'single needle' and will be connected to a Central Interface Module (GSA-55)'.
The gauge is equipped with a steppermotor, which should ensure a smooth movement of the needle.
The Flap gauge is supplied without a frame or frame (bezel) and can directly be built behind the existing MIP-panels FlyEngravity and FDS.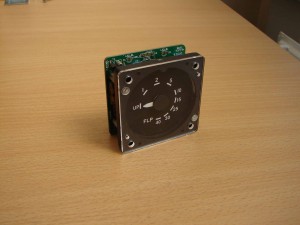 Translated by Yandex.Translate and Global Translator