F/O Yoke
On F/O side is missing a yoke. The reason for this is that this place is rarely busy. So useless to an expensive and unnecessary yoke.
To this void yet to fill, I started to use a dummy yoke to build. With a replica B737-steering wheel and a wooden formwork on the underside, this is a cheap way to resolve.
This yoke is not operational, only the P/T button and another button on the steering wheel are still connected to the Pokeys Card.
This is to the 'comms' to do with ATC (IVAO) by an available F/R ...
The yoke-the steering wheel comes from ACV Design & Simulation from Peru and the frame is made from mdf of 12mm thickness.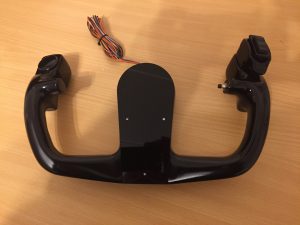 Translated by Yandex.Translate and Global Translator