Double I-Rails
The cockpitzetels in my cockpit come from a C-130 Hercules plane and this with the original track. These seats can with the corresponding I-rails only front and move backwards. Since these seats are in width is there between the seat and pedestal is no room to get in and out.
Now in the construction of the 'sidewalls' is not possible anymore along the outside in - and out steps. Therefore, it was urgently necessary to a rail or sliding system to find where the seats to the left and to the right can scroll them in and out can happen in between seat and pedestal.
With what creations I can solve it by a second linear track system to mount under the current and original rails.
Detailed explanation and photos at the following link : http://www.flightdeck737.be/hardware/seats-2/i-reals/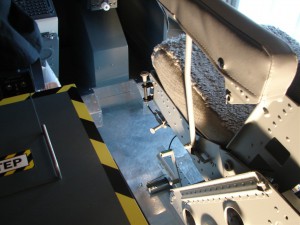 Translated by Yandex.Translate and Global Translator