Topcat
Topcat is een programma voor het berekenen van de Take-Off- en Landingprestaties.
Dit programma voorziet je van Load Sheets, Payload, Fuelload, Take-Off en Landing performance analysis, Individual Runway Tables inclusief V1, VR en V2, optimum thrust and flaps configurations, de-rated and assumed/flex temperatures en stop margins.
Verschillende weerservers (ASE, IVAO , etc.) kan je koppelen met Topcat.
Deze tool is voor degenen die wat dieper willen ingaan in de materie hoe je, zoals in de echte vliegwereld, volgens de regels van de kunst veiliger en efficiënter kan opstijgen en landen.
Dus iets voor de simmers die wat meer willen …
.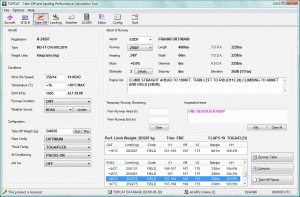 .
.
.
.
.
.
.