Buttons Lower Dimming Panels
The buttons which are located on the lower dimming panels there should be general for adjusting the MIP-lighting.
.
DESCRIPTION
This verlichtingsknoppen at the Lower Dimming Panels shall be composed of :
.
.
.
.
.
.
Capt Side
Main Panel Boeing 737 Style knob FlyEngravity
Upper DU Brt Boeing 737 B Style button Homemade
Outbd DU Brt Boeing 737 B Style button Homemade
Inbd DU Brt Dual concentric knob Simparts
Lower DU Brt Dual concentric knob Simparts
Background Boeing 737 Style knob FlyEngravity
AFDS Flood Boeing 737 Style knob FlyEngravity
F/O Side
Main Panel Boeing 737 Style knob FlyEngravity
Inbd DU Brt Dual concentric knob Simparts
Outbd DU Brt Boeing 737 B Style button Homemade
.
Boeing 737 Style
These buttons (a total of 4 pieces) I have purchased from FlyEngravity. These buttons were completely finished (painted with the strip, and shaft) in addition to the openings for the bolts and the bolts themselves, in order to the button to make the switch weren't there.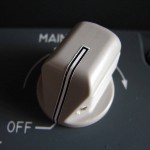 .
.
.
.
.
.
.
Boeing 737 B Style
FlyEngravity had these buttons are not available. I do have a number of molded samples free of their gotten to own. What once had this happen :
Shaft drilling;
Sand;
Painting in a primer;
2x topcoats in grey color;
Markeerstrip application;
Make mademoeren (inbudsboutjes) for attachment to the switch.
First I have a shaft drilled 6 mm (↔) to the switch to fit. Afterwards all, a little sand, and then 2x black painted to any light,the backlight of the lower dimming panels.
.
.
.
.
.
.
Then I have these buttons, 2x painted in gray color. It was niet is easily the same color as the Boeing 737 Style knobs from FlyEngravity. If you paint want to buy in a paint store or interior shop is a minimum of a ½ Liter and that for a few buttons is a bit much. Therefore, a visit to a Modelbouwwinkel (Wouters Model Bergeijk– NL) where one of those little jars you can buy, and this in all possible colors. The paint color that most closely matches the Boeing Style knobs is that of Humbrol – 166 Satin Light Aircraft Grey.
.
.
.
.
.
.
After the varnishing, I have a markeerstrip made. The drawings I have received of Richard Nijs that these strips are also used in the F16 cockpit. Only to make them 'match' with the Boeing-buttons from FlyEngravity, I have the black lines which are diluted in Photoshop. This drawing I sent to the company 'In-sight' (Lommel) that there is a sticker.
Then it is simply a utility Knife to the necessary strips off to cut and put on the buttons
*** Download drawing markeringstrips ***
.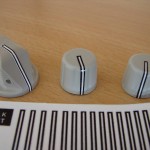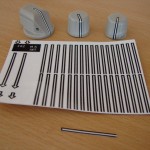 .
.
.
.
.
.
.
.
.
.
.
.
.
.
.
Dual concentric knob
For Capt INBD DU BRT LOWER DU BRT and F/O INBD DU BRT, there are dual concentric knobs.
The outer button is for the brightness of the ND and the inner button to adjust the brightness of the WX RADAR and TERRAIN (both are located in the ND display).
Since in ProSim737 still no WX RADAR and TERRAIN feature is, I haven't seen any dual concentric potentiometers, but ordinary potentiometers are used. The inner button is not connected, only the outer button.
They will therefore serve for the brightness to adjust the ND (INBD DU BRT), Lower Eicas (LOWER DU BRT) in the Capt and ND (INBD DU BRT) of the F/O.
These 3 buttons, or 'covers' I purchased at Simparts (D). These buttons are cast in white plastic. I got them first with a coat of black primer (to stop light) and then a few layers of gray color. And also as with the other buttons, I have them with a markeerstrip.
.
.
.
.
.
.
.
Anchoring of the buttons on the switches
To all of the buttons to the switches I have on 2 sides of the buttons (Boeing 737 Style and Boeing 737 (B Style) a small hole drilled 3.2 mm. I then in this opening is a wire tapped from 4 mm. Afterwards, just a maadschroef (bolt or screw) 4 mm erin turned to the button to anchor the shaft of the switch. With the Dual Concentric knob I have but one anchor.
The maadschroeven (adjusting screws) I purchased at Fabory in Lommel, belgium. This company is specialized in the sale of all of the possible fasteners.
.
.
.
.
.
.
.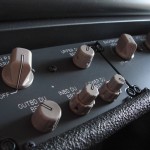 Translated by Yandex.Translate and Global Translator