Intercompaneel
Early last week, I have an Intercom panel ordered from FlyEngravity and a week later it was ready-made delivered to your home by UPS. About fast service !
I have this panel 'customize' to make for my future System.
This panel will be between the other radio modules to be built into the pedestal.
There are 2 volume buttons for adjusting the volume of the Comms between CPT and FO and 2 volume buttons will be used for the volume control of the Comms between the CPT/FO, and external (e.g. ATC IVAO).
I have these 2 last volume added to the volume controls found on the headsets to replace it. The volume control on the headsets gives serious interference in the intercom System. These existing features are so 'gebypassed'.
In the middle of the panel there push button for whatever I may be used (e.g. bring up or hide the IVAP window).
The potentiometers on the Intercompanel will be connected with the Intercombox (with pre - and power amps) which are located on the bottom of the pedestal.
The back of the Intercompanel is also provided for backlighting.
More about the intercom System and accessories : http://www.flightdeck737.be/hardware/avionics-pedestal/intercom/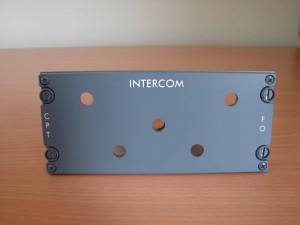 Translated by Yandex.Translate and Global Translator