FS 'crabbing'-effect
Om wat meer ruimte te hebben achter de cockpit en vooral ook om de cockpit later mooi af te schermen met een donker gordijn heb ik deze een 65 cm naar voren geschoven.
Nu dat ik korter bij de projectie display zit heb ik te maken met het FS 'crabbing'-effect (FS is niet gemaakt voor cockpits met een linkse of rechtse stoel).  M.a.w. wanneer ik mooi ben opgelijnd met de runway (bv. in final en zonder wind) is het juist of ik schuins (in krab) naar de landingsbaan vlieg.
Om dit probleem op te lossen heb ik een paar aanpassingen moeten doen in de panel.cfg van het vliegtuig:
//Move eyepoint: Left/Right (neg – left), Up/Down (neg – down), Forward/Back (neg – back)
VIEW_FORWARD_EYE=-1.0, 1.0, 0,0
//Rotate view in Pitch (Up – neg), Roll (Left – neg), Heading (Left – neg)
VIEW_FORWARD_DIR=0.0, 0.0, 5.0
De waardes hierboven zijn de waardes die ik gebruikt heb in FS9 voor een juiste JETSTREAM 737-800 CAPT stoel en dit zonder 'Crabbing'. Deze waardes kunnen gebruikt worden als referentie voor andere setups. Het is dan ook de bedoeling wat te 'spelen' met de vermelde getallen zodat men uiteindelijk een optimaal beeld krijgt.
.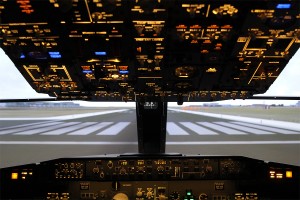 .
.
.
.
.
.
.